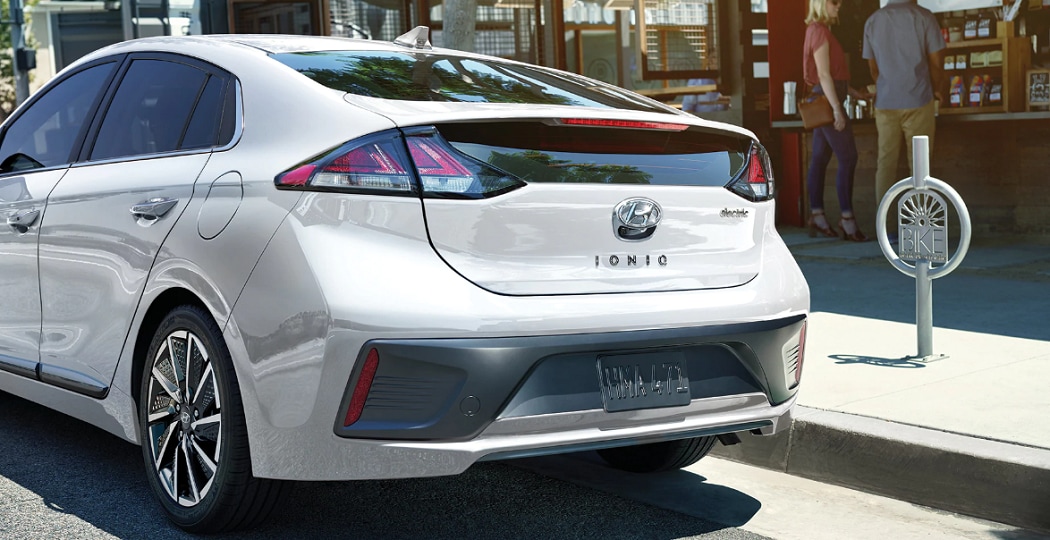 Electrify Your Hyundai Drive With The 2020 IONIQ EV

Enjoy the ultimate eco-friendly drive when driving the all-electric 2020 IONIQ EV, and experience a driving enjoyment and thrill like no other. And if you ever thought for a second you will blend into a crowd, you're wrong. Not only is the Hyundai IONIQ EV environmentally friendly and powerful, but it is also designed to attract attention from onlookers, wherever your IONIQ takes you.
As an authorized Hyundai dealer in Halifax NS, Steele Hyundai has access to all available and future concept Hyundai inventory. From our showroom, debuting Hyundai's new lineup, to our lot, where we feature remarkable used Hyundai cars, trucks, and SUVs, you will find the Hyundai of your dreams right here. Browse our inventory online right now, from the comfort of your home, to find your Hyundai.
New IONIQ available at Steele Hyundai
IONIQ EV Interior Design
The redesigned 2020 IONIQ interior brings a combination of futuristic and luxurious feel into one entity. Accentuate your cabin with sophisticated ambient blue lighting while embracing the outdoors, from the warmth of the sun to the autumn breeze through the available power sunroof. Stay warm and cozy during Canada's treacherous winters with the standard heated front seats, available heated rear seats, and standard heated steering wheel. Thanks to the innovative design of the lithium-ion polymer battery and purpose-built chassis, you don't have to choose between efficiency and space. Enjoy expansive cargo space and 60/40 split-fold seats.
IONIQ EV Exterior Design
The 2020 IONIQ offers a striking aerodynamic design that results in superior efficiency. The IONIQ exterior is as much a science as it is superiorly attractive. The new mesh-type front grille design features active air shutters that energetically adjust to driving conditions. Opening to allow greater airflow for engine cooling in stop and go city traffic and then closing for superior aerodynamics at nonstop highway cruising speeds. The sport lower front fascia features integrated wheel air curtains that help navigate air over and around the front wheels and tires to curtail turbulence and wind resistance for smoother ride.
Steele Hyundai Financing
We want to make your new Hyundai purchase relaxed and convenient. Use our online tools to start your purchase online. Our finance specialists and Hyundai experts will then work to create monthly payments tailored to your needs. Fill out an online credit application for pre-approval, and let our finance specialists sort out the final details. For more information, contact us.
Book a Test Drive Today at Steele Hyundai in Halifax, Nova Scotia
2020 Hyundai Ioniq electric Video Review | Halifax, Nova Scotia
New 2020 Hyundai IONIQ EV for Sale at Steele Hyundai in Halifax, NS

---

IONIQ EV Performance
The 2020 IONIQ EV delivers a rewarding drive for both the driver and the environment. The new IONIQ electric's 100 kW electric motor is powered by using energy stored in the 38.3 lithium-ion polymer battery which offers an enhanced all-electric driving range of 274 km on a single charge. Thanks to the robust and reliable chemistry of the next generation lithium-ion technology, the lithium-ion polymer is smaller, lighter, longer-lasting, and more energy-dense than the batteries found in hybrid vehicles.
The 2020 IONIQ electric can be charged at home, or any electric charging station when you are out on the road. The estimated driving range can easily be read on the supervision display. The battery can be charged in 3 levels.
Level 1 - Standard household outlet (120V) - 35.5 hours charging time
Level 2 - Available household outlet/public (240V) - a little over 6 hours charging time
Level 3 - Public (480V) - 54 minutes charging time (80% charge)
IONIQ EV Safety
At Steele Hyundai, we care about the safety of you and your loved ones. That is why we stand by Hyundai's innovative driver-assist safety technologies. Making the conscious decision of protecting our environment does not have to come at the expense of your safety. Safety systems available in the 2020 IONIQ EV include (but not limited to):
Forward Collision-Avoidance Assist with Pedestrian Detection - designed to detect a vehicle or pedestrian and give warning of a potential frontal collision
Lane Departure Warning with Lane Keeping Assist - designed to alert you when you drift outside your lane without signaling and corrective steering assistance may be applied
Driver Attention Warning - designed to detect the onset of driver fatigue, this system will monitor driver input and issue a visual and audible alert if fatigue is sensed
Blind-Spot Collision Warning - senses vehicles approaching the driver's blind spot to help avoid potential collisions
Highway Driving Assist - actively engages when applicable systems are in use to help keep your pace, stay centred in your lane, and remain at a safe distance behind the vehicle ahead