Hyundai N Line Lineup in Halifax, NS
Hyundai's N Line stable of models combines engaging performance with racy designs both inside and out, and Steele Hyundai couldn't be more ecstatic to unveil these vehicles to drivers and motoring lovers based in Halifax, NS and beyond. Allow us to introduce the Hyundai N Line lineup for Canada below before visiting our dealership to feast your eyes on our new inventory.
Hyundai N Line Lineup: What's New?
Whether you're partial to a sedan or crossover, the Hyundai N Line stable has what you're looking for. No matter your model of preference, you'll be treated to a bold design, a welcoming and stylish interior, and a riveting ride.
Hyundai N Line Lineup
Elantra N Line
Hyundai's Elantra has come a long way since it debuted as an economy sedan years ago, as its N Line variation hits the market with 201 horsepower, a seven-speed dual-clutch transmission, and a jaw-dropping design with muscular bodywork and an aggressive front end. Rest assured, this Elantra model is just as reliable as its standard configuration, and even more exciting to drive.
Sonata N Line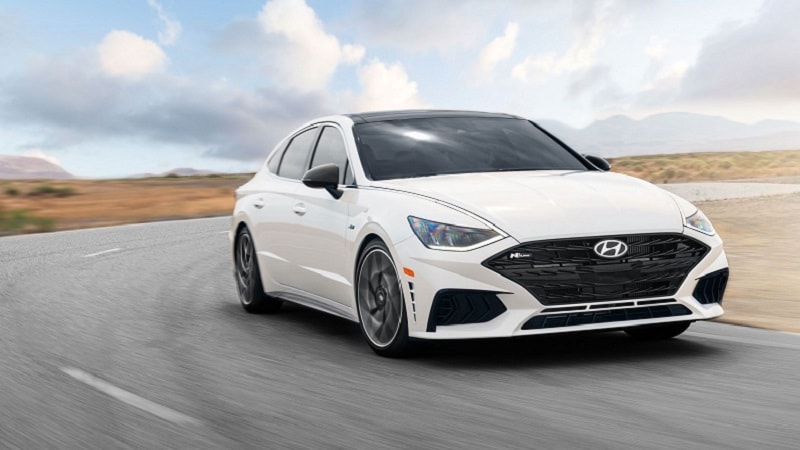 The long-running Sonata enters the 2022 model year with an elegant coupe-like design, and its N Line configuration takes things up a notch with exclusive exterior styling that gives it an even more daring appearance. This Hyundai sedan also packs plenty of user-friendly infotainment functions, and best of all, it boasts a 2.5-litre turbocharged engine with 290 horsepower under the hood, responsive acceleration, and crisp handling thrill-seekers will love.
Kona N Line
The Hyundai Kona N Line completes the stable, and its performance matches its sporty, head-turning looks. A 1.6-litre turbocharged engine combines with lightweight wheels, a large double-wing roof spoiler, and a mesh upper grille to give this Hyundai crossover an engaging and dynamic ride with first-rate cornering and athletic handling. Who said you can't enjoy racy performance in a subcompact SUV package?
Tucson N Line
Hyundai's beloved Tucson SUV returns this year with a reimagined design, and its N Line trim pairs its bold, stunning looks with a refined 2.5-litre four-cylinder engine with nearly 190 horsepower. The Tucson N Line's motor pairs with a smooth and responsive automatic transmission and paddle shifters that allow you to make the most of its peppy powertrain, all while enjoying a refined cabin with cloth and leather combination trim.
Contact Us
If you're ready for your next Hyundai, you can contact us at Steele Hyundai for further details on our lineup and available buying options. In addition to our attractive fleet, we also offer rates and financing terms that can accommodate drivers of all budgets. Drop us a line at Steele Hyundai today, and we'll gladly fill you in on the details.
Hyundai N Line in Halifax, Nova Scotia
Contact Us